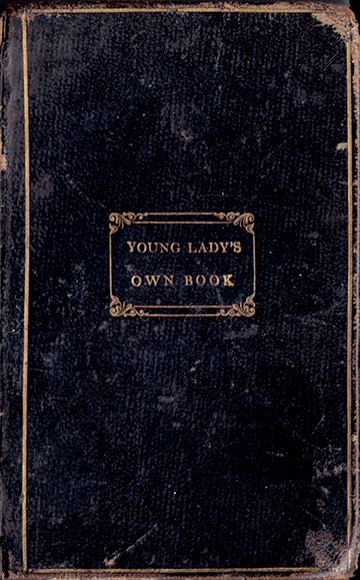 Inscription
[stamped]
S. A. Emery
Pinegrove Pa.
Summary
The Young Lady's Own Book:
A Manual of Intellectual Improvement and Moral Deportment.
by
The Author of the Young Man's Own Book.
As through the hedge-row shade the violet steals,
And the sweet air its modest leaf reveals,
Her softer charms, but by their influence known,
Surprise all hearts, and mould them to her own.
Philadelphia:
Key & Biddle – 23 Minor Street.
1833
References
"Messrs. Key, Mielke, & Biddle, have published a handsome little volume, the Young Lady's Own Book, a counterpart to another, which we noticed some months since, entitled The Young Man's own Book. The work now before us bears the impress of attentive observance on the part of the editor, and is stored with such precepts as cannot fail of being beneficial to every female that will peruse them. There is, in several of the chapters, some good wholesome advice, such as was wont to greet the ears of our grandmothers, but which too rarely arrests the attention of their grand daughters: – personal cleanliness, personal propriety; habits of order, of economy; habitual regard by young females of the importance of the station which they are destined to fill; a due and constant regard to the customs of the time, and withal a notice of how they are to think well, as well as act well.- We become accountable, undoubtedly, for our thoughts, especially when the means of forming them correctly are placed within our reach.
We would commend to the attention of mothers, and of the young indeed, this auxiliary to virtue, which is now published under the name of Young Lady's Own Book: we are sure it will please and instruct; – we hope it will please and instruct many." – The United States Gazette, Philadelphia, Pennsylvania, 8 Aug 1832