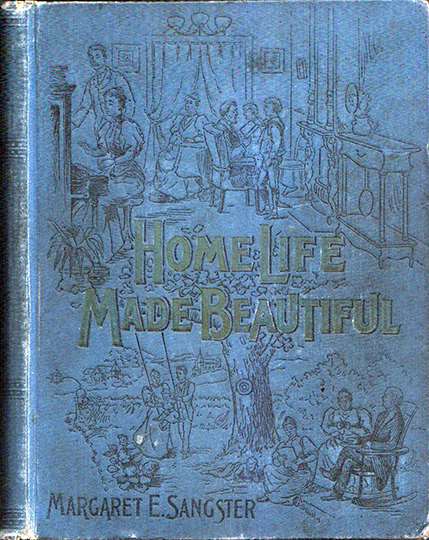 Summary
Home Life Made Beautiful
In Story, Song, Sketch and Picture.
Out of the infinite
Sea of bliss,
The great All-Father
Has sent me this
Drop of the ocean
Of live divine;
Joy of my being,
Baby mine.
Never was gift
So fair to see,
Angels of heavens
Might envy me.
Thrills my soul with
The wonder and bliss
That the great All-Father
Hath sent me this.
Once in the home
There were only two,
Three are completer,
And heaven breaks through,
Flooding with glory
The fair home nest,
Where Father and Mother
And Babe are blest.
This is my Baby!
Sweet as a rose,
Sweet as the bud
That must yet unclose.
Out of the infinite
Come to be mine!
bless Thee and praise Thee,
Father Divine.
Written, Edited and Compiled by
Margaret E. Sangster
Author of
"On the Road Home," "Little Knights and Ladies," "With My Neighbors," "Poems of the Household," "Home Fairies and Heart Flowers," "Hours with Girls," "May Stanhope," etc., etc.
The Christian Herald,
Louis Klopsch, Proprietor,
Bible House, New York City.
1897.
References
A Practical, Helpful Book.
Home Life Made Beautiful.
By Margaret E. Sangster
"Home-Life Made Beautiful" is Tastefully Bound in Silk-Finished Cloth, with elaborate Emblematic Side and Back Stamp in Gilt and Attractive Colors. This Household Treasure measures, when open, 9×15 inches, and weighs three pounds.
No authoress in this country is more popular, more beloved, or more respected than is Margaret E. Sangster, who needs no introduction to the Reading Public. Her latest and greatest work, "Home-Life Made Beautiful," will bring sunshine to the heart of everyone into whose hands this Magnificent Volume may fall. In its pages Mrs. Sangster discusses the Ideal and Practical Sides of Home-life in all its kaleidoscopic, shifting phases.
"When to Marry," "The Children," "Domestic Friction," "Financiering in the Household," "Famous Men in Their Home Lives," "The Wives of Great Men," "Backward Children," "Young People and Their Lovers," "The Growing Girl," "Husbands and Wives as Partners in Business," "Settling on a Profession," "How to Start Your Sons in Life," are a few of the topics, all treated plainly and colloquially.
Then there is a host of stories, Household Recipes, chapters on Amusements, Recreations, and Games. In short, this book is the home book of the day, and one of the blessed books of this generation.
This volume contains Beautiful Pictures, many in number and artistic in execution. In fact, from lid to lid this superior book is profusely illustrated.
We will send this beautiful volume, postpaid, to anyone who will send us a club of only FOUR yearly subscribers at $1 each.
Address
The National Tribune,
Washington, D.C.
– The National Tribune, Washington, DC, 16 Dec 1897