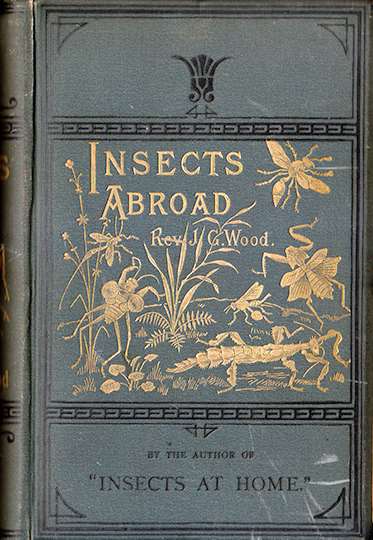 Summary
Being a popular account of FOREIGN INSECTS, their Structure, Habits, and Transformations.
By the Rev. J. G. Wood, M.A. F.L.S. &c.
Author of "Insects at Home","Homes Without Hands," "Bible Animals," Etc.
Illustrated with Six Hundred Figures, By E.A. Smith and J. B. Zwecker, engraved by G. Pearson
References
"THE REV. JOHN GEORGE WOOD, Fellow of the Linnaean Society, has written, besides his well known 'Natural History,' a great number of popular works treating of the sub-divisions of that science. His series of cheap handbooks, beginning with 'Common Objects of the Sea-Shore,' his 'Homes without Hands' and his 'Insects at Home' and 'Insects Abroad' – the one treating (not, as might be supposed, of various household acquaintances not much talked about in public), but of the entomology of the British Isles, the other of the entomology of the world at large – are a few of his productions that have gained for him a high reputation with his fellow professors as well as with the students of the science that he teaches. Mr. Wood, it must be understood, is a cabinet naturalist and has not distinguished himself by any important contributions to the common fund of scientific knowledge; but he is one of those very useful persons who administer this common fund for the benefit of the mass of mankind, extracting from it what will be of interest and use to the public at large, and explaining and simplifying the portions that the public, possessing no especial knowledge in the premises, otherwise would not understand.
The last named of the works mentioned above, 'Insects Abroad,' has just been republished in this country by George Routledge & Sons, London and New York, and is a stout octavo volume of 780 pages, with six hundred wood-cuts illustrative of the text. To many people, probably to most people, the science of entomology is by no means attractive. Quite enough of it, though not by scientific methods nor yet in the placid condition of mind becoming scientific investigation, is discovered in our daily walks in life to disgust us with the whole of it and to make us wish to keep it as far from us as possible. But if this very natural feeling can be sufficiently overcome to permit us look into entomology at all, a different feeling will be aroused and a most lively curiosity will take the place of disgust; for in all nature the handiwork of the Creator is nowhere so marvelous as it is in the insect world. Mr. Wood's book will be found an admirable guide into and through this region of animated wonders."
– The Times, Philadelphia, Pennsylvania, 18 Mar 1880