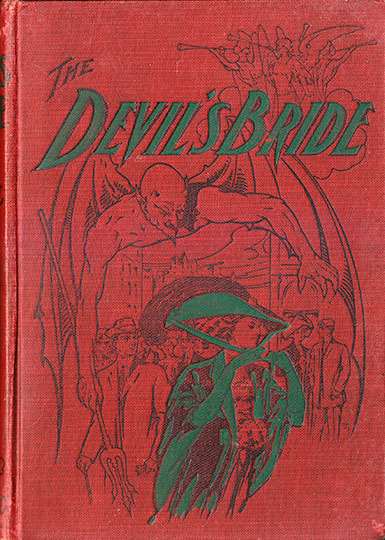 Inscription
Rev. Samuel Cox
3236 Nolt Road
Lancaster, PA 17601
Summary
A Present Day Arraignment of Formalism and Doubt In the Church and In Society, In the Light of the Holy Scriptures Given in the From of a Pleasing Story
BY
REV. MILTON H. STINE, Ph.D., D.D.
Author of "Studies on the Religious Problem of Our Country,""A Winter Jaunt Through Historic Lands,""Seven Golden Candle-Sticks," Etc.
ILLUSTRATED BY
PAUL KRAFFT
Published by
THE MINTER COMPANY
Harrisburg, Pa.
SOLD BY SUBSCRIPTION ONLY
References
"THE DEVIL'S BRIDE.
Book Written By Pastor Stine, of the Seventh St. Lutheran Church.
'The Devil's Bride' is a story written by the Rev. Dr. M.H. Stine, Ph. D., D.D., pastor of Seventh Street Lutheran Church, this city. It is a present-day arraignment of formalism and doubt in the church and in society, in the light of the Holy Scriptures, and given in the form of a pleasing story, says the author.
The story is dedicated to those who believe the prophets and also to those who have given these great subjects of prophecy no thought. The author believes that the age and the marvelous changes accompanying it are indications that point to an ultimate goal, a Golden Age that is to come.
The writer devotes considerable attention to an interpretation of the Book of Revelation and maintains that its language is not 'highly figurative.' He believes that the book presents a picture of solemn warning, and in the story he has written, it is the purpose of the author to give an idea of the condition of human society 'in those awful days which will mark the close of this present age.' Some of the scenes and characters in the book are intended to correct the 'almost universal error that education and culture eradicate the evils of society.'
In 'Doctor Knolt" the author has created a character who typifies the so-called popular preacher, and the writer goes on to show how powerless such an one is in the hour of trial, whether in his own life or in the life of those who are led by his own doctrines.
'The Devil's Bride,' says the author, 'represents those who are left on the earth when a great multitude have been caught up to be forever with the Lord, to be the Bride of Christ.' 'The Devil's Bride' is declared to constitute that great body of 'unbelievers and workers of iniquity who because of hardened infidelity were not moved to repentance under the most fearful judgment' described in this book, and so were kept in chains forged by their own hands, 'for an experience,' says the author, 'that the pen refrained from chronicling it, a condition described as the "second death."'
The book is published by the Minter Company of Harrisburg and has had a large sale. Dr. Stine is the author of a number of works, particularly books of travel."
– Lebanon Courier and Semi-Weekly Report, Lebanon, Pennsylvania, 10 Feb 1911