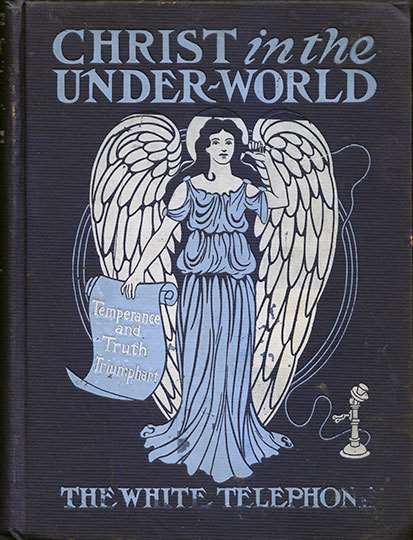 Summary
Temperance and Truth Triumphant
CHRIST IN THE UNDER-WORLD
OR
THE WHITE TELEPHONE
Messages of Joy, Love and Strength
Connecting Every Human Soul with
The Fascinating Secret of Success in "Right Living"
The Call to Heroism and a Higher Life
The Divine Spark in Man Electrified
The Key to a Noble Career
The Uplift of Humanity
The Christ Solution of Modern Problems
The Victorious Outcome of Cherished Plans
Comforting Bible Promises Being Fulfilled
And What they Mean
To the Real Life of To-Day
Written By
Lilian M. Heath
Author of "The Red Telephone,""Eighty Pleasant Evenings,""Good Times with the Juniors," Etc.
With Inspiring Contributions from
James M. Gray, D.D., Dean of Moody Bible Institute; From "Pansy," (Mrs. G.R. Alden), The World Famed Writer for Youth; Rev. George T. Webb, General Secretary Baptist Young People's Union; Mrs. Francis E. Clark, Representing Junior Christian Endeavor, and from Others.
Illustrated with Colored Plates which tell in Striking Pictures the Beautiful Story of Temperance and the Sad Story of Intemperance. Also a Gallery of Vivid and Interesting Drawings; together with many reproductions from Artistic Masterpieces.
References
An Excellent Book.
Mrs. L. Fink has the agency for an excellent book, title, "Christ in the Under World, or the White Telephone." She is making a canvass of the city and hopes to place a copy of the book in many homes.
– Salisbury Evening Post, Salisbury, NC, 16 Apr 1909