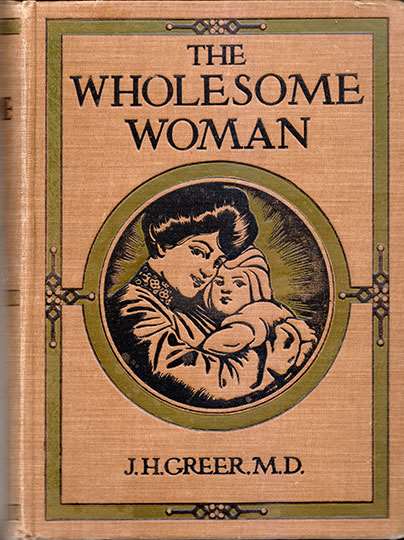 Summary
A HOME BOOK OF
Tokology, Hygiene and Education
for
Maidens, Wives and Mothers
A CLEAN AND CLEAR EXPOSITION OF NATURE'S LAWS AND MYSTERIES
By J. H. GREER, M.D.
Professor of Genito-Urinary Diseases, College of Medicine and Surgery, Chicago
ILLUSTRATED
References
"'What Shall I Tell My Daughter?'
The perplexity which prompts this question need not be felt by the mother who possesses 'The Wholesome Woman,' 'A Home Book for Maidens, Wives and Mothers' a new volume by Dr. J.H. Greer. Book I. contains Sex and Life – The Mystery of Nature and Glory of Creation. Book II. Tokology – Physiology and Hygiene of the Sexual Organization. The Woman's Book of Health and Beauty. Book III. Child-Culture – Education and Character Building. The Kindergarten and Manual Training. Book IV. Health and Hygiene – Practical Lessons from a Common Sense School of Medical Science. The Prevention and Cure of Disease by Natural Remedies. There are thirty seven chapters comprised in these books, and in addition a separate supplement of forty-one plates, printed in colors, illustrating sex in plant life; the human sexual organs and the laws of reproduction; the development of the human embryo and foetus, showing nourishment and growth from day to day and month to month; the plan of foetal circulation, etc., etc.
The information is given in clear, simple language; the book contains 510 pages; bound in Extra Cloth, with special emblematic color design, the price is $2; in Half-Morocco, marbled edges, stamped with gold, $3. It may be obtained at Lucifer's office."
– Lucifer, the Light Bearer, Chicago, IL, 25 Sep 1902
"LADIES – Our perfect protector with full directions for use sent postpaid for $1. It will never fail you. Satisfaction guaranteed. To all who order before Xmas we will also send absolutely free 'Wholesome Woman,' our 510 page cloth bound book for women and the home. It is handsomely illustrated by 43 colored plates and 17 full page half tones, and ordinarily sells for $2. Don't miss this chance. In ordering please state your weight. Hygiene & Tokology Co., 362 West Adams st, Chicago, Ill."
– Star Tribune, Minneapolis, MN, 30 Nov 1902
Notes
Does not include separate supplement of colored plates.