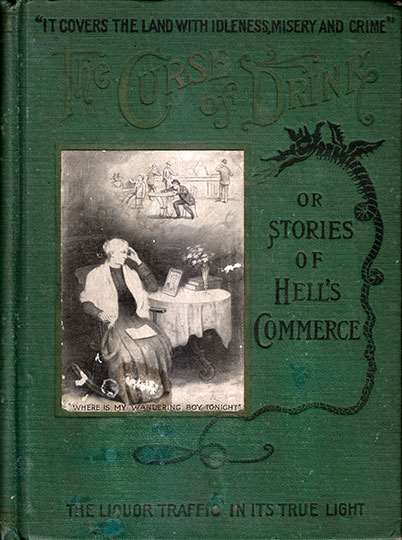 Author(s): Bans, L.A.; Beard, Frank; Beecher, Henry Ward; Cyler, Theo. L.; Depew, Chauncey; Dickie, Samuel; Gough, John B.; Grant, Gen. Fred; Jones, Sam; Kipling, Rudyard; Moody, Dwight L.; Perkins, Eli; Phillips, Wendell; Shaw, Ada Melville; Shaw, Elton R.; Sheldon, Chas. M.; Sheridan, Gen.; St. John, John P.; Talmage, T DeWitt; Torrey, R.A.; Wilcox, Ella Wheeler; Wooley, John C.
|
Illustrator(s): Haskell, W.L.
Inscription
Anthony W. Purnell
Berlin
Md
Summary
A BOOK DESIGNED TO AWAKEN THE AMERICAN PEOPLE
The Curse of Drink
or,
Stories of Hell's Commerce
A Mighty Array of True and Interesting Stories and Incidents, Striking Articles, Touching Home Scenes and Tales of Tender Pathos, all Thrilling with Graphic Details and Eloquent Language of the Fearful Consequences of the CURSE OF DRINK.
by
JOHN C. WOOLEY, JOHN P. St. JOHN, ELI PERKINS, CHAS. M. SHELDON, DWIGHT L. MOODY, CHAUNCEY DEPEW, R.A. TORREY, SAM JONES, HENRY WARD BEECHER, JOHN B. GOUGH, THEO. L CYLER, ADA MELVILLE SHAW, T. DeWITT TALMAGE, L.A. BANS, GEN. FRED GRANT, GEN. SHERIDAN, FRANK BEARD, RUDYARD KIPLING, ELLA WHEELER WILCOX, WENDELL PHILLIPS, and many others.
Also containing hundreds of Pointed Paragraphs, Inspiring and Stirring Temperance Poems and Songs portraying the evils of the Liquor Habit
Edited by Elton R. Shaw
Special Introduction by
SAMUEL DICKIE
President of Albion College, Albion, Michigan, twelve years Chairman Prohibition Party National Committee
FULLY ILLUSTRATED WITH HALF-TONES AND TEXT ENGRAVINGS BY CELEBRATED ARTISTS
References
"'THE Curse of Drink, or Stories of Hell's Commerce' The book for every home. Contains 550 pages, nearly 100 illustrations. Worth its weight in gold, cloth binding, $1.75; half Morocco, $2.50. Sent prepaid to any address in United States. Eastern Publishing Company, 3412 East Marshall Street; Richmond, Va."
– The Times Dispatch, Richmond, Virginia, 10 Jan 1915