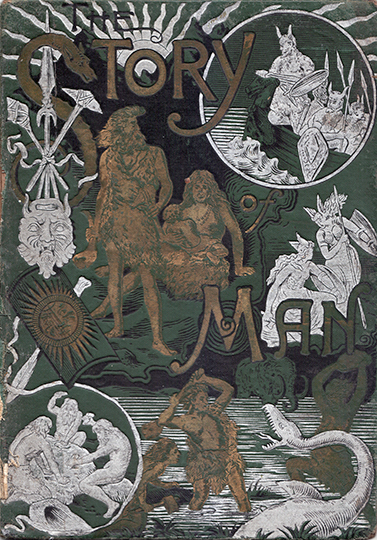 Inscription
Anna P. Mitchell
Summary
Story of Man
The Story of Man:
A History of the Human Race,
From the Creation to the Present Time, Embracing an Account of the Origin of Races and Their Dispersion over the Globe.
Following all the Footsteps of Man's Wanderings in his Ascent from Primitive Savagery, Through the Prehistoric Ages, and Describing his Distribution over the Face of the Earth.
With an Exahaustive Account of the Earliest Peoples that Settled All Nations, their Customers, Superstitions, Government, Barbarism, and also Descriptions of the Benighted, Wild and Savage Races of Africa, South America, the Polar Regions, Asia, and The Islands of the Sea,
Including also a History of the Ancient Civilizations of the World, the Lost Arts, and the Mighty Convulsions of Nature by Earthquake and Eruption that have Destroyed Empires, Continents, and the Monuments of Extinct Races.
Covering Periods known as The Stone, Bronze, and Iron Ages, and Embracing a full Account of the Dave, Lake and Tree Dwellers; also the Aztecs, Druids, Celts, Norsemen, Vikings, and the Marvellous Splendors of the Ancient Egyptian, Syrian, and Indian Civilizations.
Embellished with Many Curious Facts, Singular Customs, Wonderful and Weird Adventures, and a Multitude of Marvellous Incidents connected with the History of Ancient Peoples and Wild Races of Modern Times.
By J. W. Buel,
Author of "The Beautiful Story," "The Living World," "Sea and Land," "The World's Wonders," "Exile Life in Siberia, " Etc.
Illustrated with Nearly 600 Splendid Engravings from Scenes and Incidents Described in this Marvellous Record, and Magnificent Colored Plates.
Published and Manufactured by
Historical Publishing Company.
Philadelphia, Pa.
St. Louis, Mo.
Notes
Copyright 1889
Poor condition (covers detached but present, text block good)