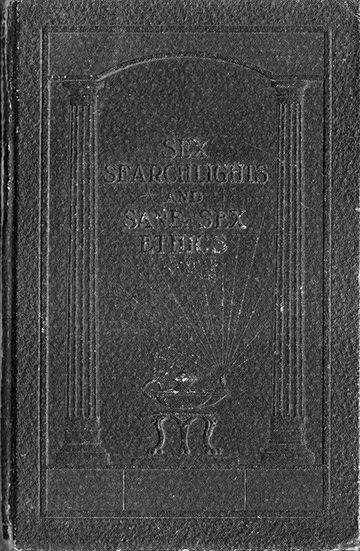 Summary
Sex Searchlights
and
Sane Sex Ethics
An Anthology of Sex Knowledge
Edited by Dr. Lee Alexander Stone
Chief of Bureau of Hospital Control, Social and Industrial Hygiene, Chicago Health department; Regional Consultant US. Public Health Service; Late Official War Department Lecturer and Instructor to Troops in Social Hygiene and Venereal Disease Control; Major M.C.U.S.R.; former Lecturer Medical Sociology, University of Tenn., College of Medicine, (Memphis); member American Institute of Criminal Law and Criminology; American Social Hygiene Assn.; former member Vice Commission, Memphis. Author: "Eugenics and Marriage," "The Woman of the Streets," "An Open Talk with Mothers and Fathers," etc.
WITH SPECIAL DRAWINGS BY DON CHILCOTE
"I would be pure, for there are those that trust me;
I would be true, for there are those that care;
I would be strong, for there is much to suffer;
I would be brave, for there is much to dare;
I would be friend of all – the foe – the friendless;
I would be forgiving and forget the gift;
I would be humble, for I know my weakness;
I would look up – and laugh – and love – and lift."
Price $7.00
Chicago
Science Publishing Company
Uninc.
1922