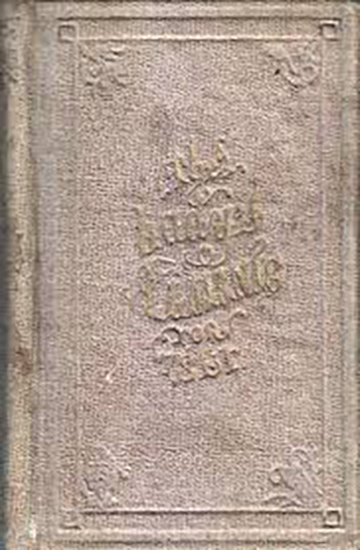 Summary
Lady's Almanac 1861
Boston
Chase, Nichols, & Hill.
New York: Phinney, Blakeman, and Mason.
Philadelphia: T. B. Pugh.
Cincinnati: Rickey, Mallory And Co.
Cleveland: Ingham and Bragg.
Detroit: Raymond and Lapham.
St. Louis: E.K. Woodard.
Savannah, GA: J.M. Cooper and Co.
Printed by Damrell & Moore, 16 Devonshire St., Boston
References
1861……GEM OF THE YEAR……1861.
THE LADY'S ALMANAC
FOR 1861
18 ILLUSTRATIONS BY BILLINGS,
Containing Memoranda Pages, Receipts, &c. &c., indispensable to every lady.
Bound in Blue and Gold, Red and Gold, Gilt edges, printed on superfine paper, and just the article to present to a Lady friend. Sent per mail free, on receipt of price, 25 cents.
Published By
CHASE, NICHOLS & HILL,
43 Washington Street, Boston.
– New England Farmer, Boston, Mass, 29 Dec 1860
A GEM FOR THE LADIES – The most complete Bijou we have seen this year combining both use and beauty is "The Ladies Almanac for 1861."
It is not often we give a review of a little twenty-five cent. volume, but the one before us is so thoroughly beautiful that we must say a few words. First then, as to appearance – It is pocket size – 128 pages – tinted paper – exquisitely bound in embossed cloth, richly gilt leathered and gilt edges. It contains no less than nineteen poems by known writers (illustrated), upon the various months and other subjects and no less than a hundred valuable recipes for all sorts of purposes. It contains charming drawings of the various ladies' fashion from the year 1700 to 1825. It contains a ruled diary for each month. It contains no less than 80 clever engravings. In short, in the whole 128 pages there is not a word to be spared and we can scarcely conceive anything more could be added. It is a little book without which a lady's work-table or reticule is not complete and yet the price is only twenty-five cents. The sole agent for Brooklyn is Mr. J.G. Burrill, Metropolitan Gift Book Store, 326 Fulton street.
Ladies! We say by all means, call there at once and get a copy.
– The Brooklyn Daily Eagle, Brooklyn, NY, 9 Jan 1861