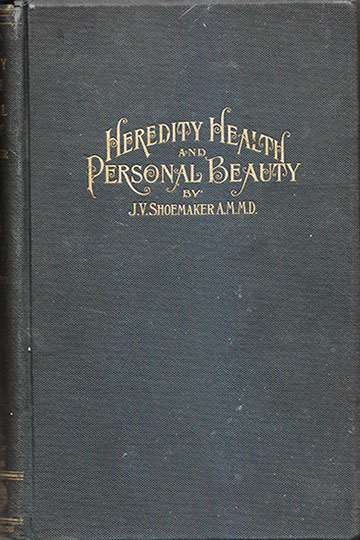 Summary
By John V. Shoemaker, A.M., M.D.
Professor of Materia Medica, Pharmacology, Therapeutics, And Clinical Medicine, and Clinical Professor of Diseases of the Skin, The Medico-Chrurgical College of Philadelphia; Physician to the Medico-Chrurgical Hospital; Member of the American Medical Association, of the Pennsylvania and Minnesota State Medical Societies, The American Academy of Medicine, The British Medical Association; Fellow of the Medical Society of London, Etc.
"The law of the wise is the fountain of life." – Proverbs.
References
"Womanly Beauty
HOW TO GAIN AND RETAIN IT
– IS THE SUBJECT OF –
John V. Shoemaker, A.M., M.D.
– IN HIS NEW BOOK –
'Heredity, Health, and Personal Beauty.'
This book is a royal octavo, bound in cloth. It contains more than 400 pages, comprising 37 chapters, and covers the whole ground of subjects expressed in the title, which are most interesting and necessary to women. These few titles from the table of contents reveal its value:
The Source of the Beauty of the Fair Sex. The Influence of Sexual Selection on Beauty. The Evolution and Future of the American Girl. Her Beauty and Dress Compared with Foreign Women and the Relation of Dress to Form. The Art of Walking, with Practical Directions. Tests of Gracefulness. Grace of Little Girls. Beauty and Health in the Bath. Various Baths. Cosmetic Care of the Face, Hands, Feet, Hair. Cosmetic Articles, Elegant Toilet Preparations and Recipes, Medicated Soaps, their Variety and Uses. More than Fifty Valuable Recipes, Treatment and Remedies for Illnesses, Blemishes, Accidents, and Conditions which are Foes to Beauty. Over a Hundred Remedies.
IT CAN NOT BE OBTAIN IN BOOKSTORES.
We now offer it with the Argonaut thus:
The Publisher's price is …… $2.50
A year's subscription to the Argonaut is …… $4.00
We will send both, post-paid, to any address in the United States, Canada or Mexico for …… $4.50
To other countries postage will be extra. The book is not offered to newsdealers, publishers, or club agents. Send for Circular.
THE ARGONAUT PUBLISHING CO.,
246 Sutter Street, San Francisco."
– The San Francisco Call, San Francisco, CA, 9 Jan 1898
"Unlike most books of its kind, 'Heredity, Health and Personal Beauty' is not dry reading. It is written in an entertaining colloquial style and the reading matter is interspersed with a vast variety of anecdotes drawn from Dr. Shoemaker's long career in the field of medicine. It is a book that anybody, man, woman or child, can read with pleasure and the better for it in the end."
– The Philadelphia Inquirer, Philadelphia, PA, 1 Dec 1890