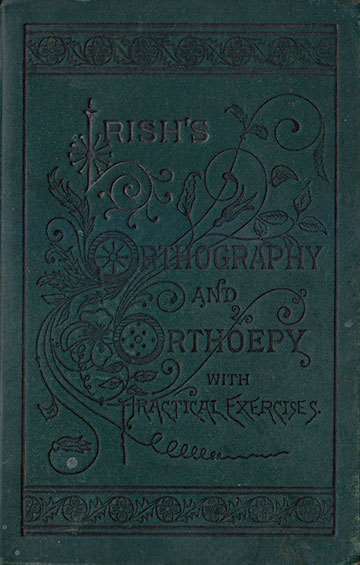 Inscription
Julia Crosman.
Florida
Ohio
Summary
Fundamentals
of the
English Language;
or,
Orthography and Orthoepy.
Designed
for Both Teachers and Pupils,
and Adapted to
the Wants of Public schools, Normal Schools, Colleges, and Private Students.
by
Frank V. Irish, A.M.,
Lecturer and instructor in Teachers' Institutes; Author of "Grammar and Analysis Made Easy and Attractive by Diagrams."
"Speech is the body and words are the wings of thought."
Published by the Author,
Columbus, Ohio.
References
"Teachers or pupils expecting to pass the county graduates' examination, desiring to secure a copy of 'Irish's Orthography and Orthoepy,' can get the same by calling on or addressing the county superintendent. This is the best work on the subject that I know of. Price fifty cents."
– The Leader Courier, Kingman, Kansas, 6 Feb 1902