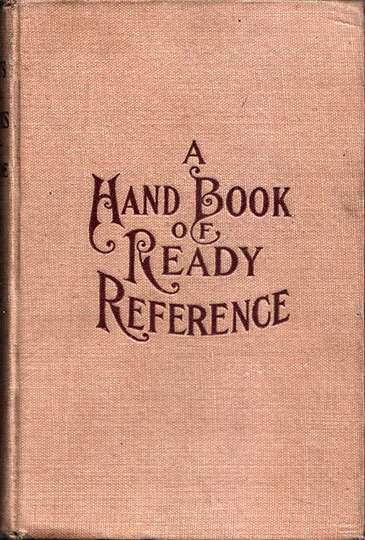 Summary
Facts and Forms
Or
A Hand-Book of Ready Reference
Comprising Common and Commercial Law, Letter Writer, Bookkeeping, Business Forms, Interest, Grain and Wages Tables, Lightning Calculator, Etc., Etc.
Simple, Short and Practical
The Essence of Volumes Boiled Down and Systematized for Busy People
By Prof. E.T. Roe, LL.B.
The noted U.S. District Attorney and Famous Author and Compiler
Published By
Hertel, Jenkins & Co.
Manufacturing Publishers
Chicago
References
"SOMETHING YOU HAVE BEEN LOOKING FOR
Something Every Business Man and Farmer Finds Need of Every Minute
FACTS AND FORMS
A Hand Book of Ready Reference
Offered Free to Subscribers of
The Daily Leader and the Oklahoma Weekly Leader
This offer is to Mail Subscribers only. Bat City Subscribers can have the book by subscribing Three Months cash in advance.
Every person sending $3.00 will receive the Daily Leader one year and one copy of 'Facts and Forms.'
Every person sending Fifty (50) Cents will receive THE OKLAHOMA WEEKLY LEADER one year and one copy of 'Facts and Forms.' Old subscribers to either the Daily or Weekly can avail themselves of this offer. Those in arrears are eligible as soon as all arrearages are paid.
This is a Great Offer
It Holds Good for Thirty Days Only, From August 15
A Neat, New Practical, Reliable, and up-to-date, little manual of legal and business forms, with tables, weights, measures, rules methods of computation and miscellaneous information valuable to everyone.
Describes the Banking System of the U.S., Obligations of Landlord and Tenant, Employer and Employee, and exposes the numerous swindling schemes worked on the unwary.
A Saver of Time and Money for the busy man of whatever calling, in fees for advice and legal forms, in correctly estimating the amount of material required for building, the weight or contents of bins, boxes or tanks; in measuring land, lumber, logs, wood, etc.; and in computing interest, wages, or the value of anything at any given price.
Some of What 'Facts and Forms' Contains
Book-Keeping by Single and Double Entry. Forms of Every Kind of Business Letter. Forms of Orders. How to Write Deeds, Notes, Drafts, Checks, Receipts, Contracts, Leases, Mortgages. Acknowledgements, Bills of Sale, Affidavits, Bills of Lading, Etc., Etc. How to Write All the Different Forms of Endorsements of Notes, Checks, and Other Negotiable Business Papers.
LAWS GOVERNING Acknowledgements, Agency Assignments, Building and Loan Associations, Collection of Debts, Contracts, Interest Rates, Deeding of Property, Employer and Employee, Landlord and Tenant, Neighbors' Animals, Line Fences, Property, Subscriptions, Transportation, and Legal Holidays AND MANY OTHER SUBJECTS
RULES FOR Paining and Mixing Paints, Parliamentary Procedure, Governing the Finding of Lost Property, Shipping, Governing Chattel Mortgages, Rapid Addition and Multiplication, Discounting Notes, Computing Interest, Finding the Contents of Barrels, Tanks, Cisterns, Cribs, Bins, Boxes – Anything, The Amount of Brick, Lime, Plaster, Lath required for Building Wall or Cedar, The Number of Shingles or Slats required for Roofing, AND HUNDREDS OF OTHER THINGS"
– The Guthrie Daily Leader, Guthrie, Oklahoma, 26 Aug 1905